Oasis Digital has been monitoring coverage of the unfolding COVID-19 (coronavirus) situation. Our plans are described here, and will evolve as needed.
Our culture, experience, and technology enable us to continue meeting customer obligations with reduced or eliminated in-person contact. In addition to equipping each of our team members for remote collaboration, we have dedicated collaboration studio spaces (example below) for small-group high-fidelity remote meetings.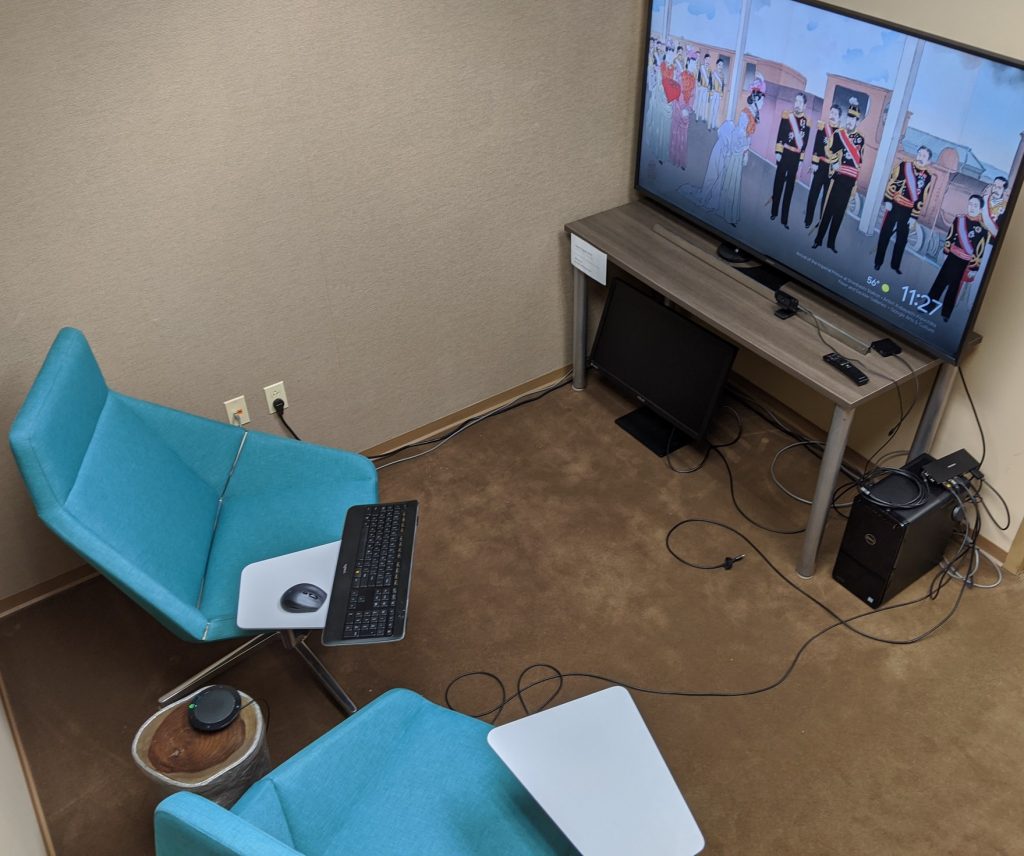 Consulting and training engagements
Various Oasis Digital customers have consulting and training in-person engagements scheduled. If conditions at our customer sites warrant, we will transition these meetings or training events to occur online, or where that is impossible, defer to later dates.
Many of our customers have developed COVID-19 policies; we will coordinate to meet their requirements. In the event any of our team members are affected, we will promptly notify any customers with whom there has been recent personal interaction.
Development engagements
Most of Oasis Digital's development work occurs remotely; for engagements with on-site work we will coordinate with affected customers to move work off-site/remote to reduce unnecessary contact.
Public in-person (open enrollment) classes
We have reduced our schedule of public in-person classes for the coming months. If the situation warrants, we could convert additional already-scheduled classes to occur online.
Public online classes
We have increased our capacity for online live-instructor training in the coming months, to meet customer demands during this time. Our online live training offerings deliver a surprisingly large portion of the benefit of an in-person event.
Advanced Angular Lunch
We host a monthly Advanced Angular Lunch event at our St. Louis Missouri office. We will adjust or rescheduled this event as warranted by spread of COVID-19 cases or preemptively out of caution. To avoid complete cancellation, we may deliver presentations and engage with the audience online, as we already do for other kinds of events.
Event sponsorships and attendance
Oasis Digital has upcoming event sponsorships. Some such events have been canceled, others may be canceled. For any events that proceed, we will evaluate the risks close to the event date.
Our team members are scheduled to attend various upcoming events, some of which have been canceled. For those not canceled, we will evaluate the risks close to the event date.
Internal meetings and collaboration
Oasis Digital has a highly collaborative work culture, using a mix of in-person and remote collaboration. All of our facilities and team members are equipped with technology for remote collaboration, and are experienced in doing so. To the extent there are reports of local cases or increase risks of unreported cases, we will move more collaboration to online/remote tools for more work-from-home and less in-office meeting.
Employee and contractor travel or illness
Our employees and subcontractors will cancel or defer travel (for work or personal reasons) to countries or areas substantially affected by the virus. As of this writing, this includes mainland China (including Hong Kong), Italy, Iran, South Korea and Japan. We will follow WHO or CDC recommendations for which areas to consider high risk.
Any employee or contractor who has traveled to a high risk area, or has personal contact with a suspected or confirmed COVID-19 case, may not enter Oasis Digital or customer facilities for at least 14 days. Any employee or contractor with fever or flu-like symptoms will work from home until symptoms pass. Thereafter, if there is any suspected connection to a COVID-19 case, continue working from home for 14 days after symptoms stop.
In the event of such restriction, we expect little or no impact on customer deliveries.