Much has been and will continue to be made of the viability of Chromebooks as a primary computing device. Microsoft launches direct attacks, inadvertently validating the platform. I see posts often lamenting the lack of gaming support. I judge computing devices by how well the device enables me to do what I need to. It is a functional decision. I have been using a Chromebook as my primary computing device for close to two years now. This last month in Europe was the first time I ventured beyond reach of either a PC or Mac. I have not used them much over the last two years but I have used them.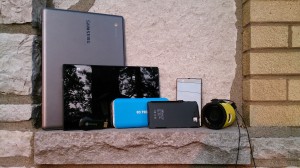 I posted information on the kit I took to Europe here (https://plus.google.com/u/0/+MichaelMcNeil/posts/2Lu3ifNWVn8?pid=6038321522472785250&oid=114761459049572366004)
The Chromebook was the ARM based Samsung CB2 13" with a 1920×1080 screen and 4GB of RAM. My wife also brought her phone and our Dell 11" Chromebook. The Dell has a speedy Haswell CPU, and 2GB of RAM. These are really 2 quite different devices that many would like to mash together. The Samsung has more memory and a much higher resolution screen, it is also more svelte and lighter than the Dell. The Dell is made of nice soft touch materials and has the fast Intel processor. Battery life on the two is roughly equal, both very very good.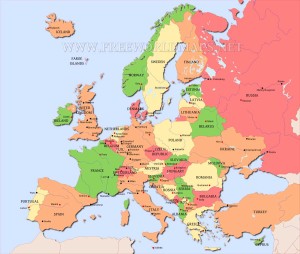 Even though this was a vacation, there was significant work that needed to be done each week for our business. I run a custom software company, Oasis Digital Solutions, and my wife is the controller. Customers still need to be responded to, software releases need to go out, new contracts need to be signed, projects cannot be ignored, employees still like to be paid and we still need to bill each week. These are pretty heady computing tasks. Here are a subset of the computing processes we used regularly just for business:
Editing and creating large docs
Manipulating large spreadsheets
Editing PDFs with Electronic Signature
Online Chats
Screenshares
Video Chats
Email, Browsing
To support our trip we had some significant computing needs as well. I used the Sony lens camera and my phone camera to take nearly 2000 pictures and videos. About 16GB worth. I am a believer in backups so each day I would transfer files off of the micro SD cards to another storage device we carefully stored away. I also backed them all up to Google services which are backed up by Spanning Backup. My wife journaled on the Chromebook each day as we went. We knew we were seeing more than we could possibly remember. We would like to share our trip with family and friends. We also used Google Maps heavily and planned our days using the Chromebooks.
The performance of the Chromebooks can be viewed on a couple of axes. First, there is performance. My metric is different than most, I watched to see which Chromebook we tended to use more. The online and offline performance is also important. Many of the times we had opportunity to use the CBs were on trains without internet access. They can also be judged in terms of storage space and battery life. Here are our conclusions:
Performance
By the fourth day of the trip we both preferred to use the Samsung. The extra screen space and memory won the day. I am more firmly convinced than ever than an ARM processor is ok and 4GB of memory is a minimum. The Dell is an excellent device but is struggles with many complex pages open and the memory disappears quickly in the latest versions of Chrome OS. When we streamed an HD movie in Dusseldorf we used the Samsung without problem. When we had Hangouts with our daughter and grandchild from St. Louis, we used the Samsung. The one exception was when my wife was working on a bunch of spreadsheets, so I used the Dell.
I did start getting into the habit of shutting down the Samsung instead of closing the lid. There is some sort of memory leak going on in the latest OS releases that I am not pleased about. Fortunately it takes only a few seconds more to boot instead of un-suspend. I expect they will fix this problem soon, as it seems to be affecting all of my Chrome devices.
Overall we found the performance of the CBs to be fantastic. We never hit a spot where we could not do what we needed in a timely fashion. This made the trip much better.
Offline Use
We did not have internet at all times. In fact we used the CBs pretty extensively in an offline mode. Most of this was content creation and manipulation. For example we would write documents, create spreadsheets, and edit photos. We also used the opportunity to review documents we had stored locally intentionally before boarding a train. The process was quite painless.
The camera I brought was a Sony DSCQX100 lens camera. I used it held in my hand with the phone as a viewfinder. Because the camera was round I ended up with an inadvertent slight tilt to many of my photos. This meant a lot more photos needed to be rotated than normal. I found the tools on my Android phone to be faster than the process on the CB. The tools are there but getting to them from the file manager is not as seamless as it could be. With that said the process of moving the files back and forth was simple because I have a USB stick with a micro USB connector. It works really well with smartphones.
Storage and Battery Life
I expected this trip to be the point I would finally start to get irritated by 16GB of storage on a typical CB. I simply was not. I downloaded a movie to watch offline, I moved photos around, I stored piles of documents for offline use, all without a hitch. Because the model is to store in the cloud and use locally, there is not a build up of little used files on the device. I have rarely found myself creating new folders locally. The files I need I keep in a pile, they sync up and when I am done with them I delete them locally. Storing too much locally defeats the backup strategy, also, so there is not a drive to keep things (pun intended).
Battery life was simply fantastic. I never once through the trip found myself watching my battery or working to conserve. These devices can go and go and go. We would go days without charging them when we were only sporadically using them. On heavy use days we would simply charge overnight. Any time we went out we did not take a power supply with us, it was simply not needed.
Conclusion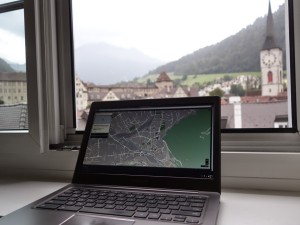 This trip confirmed to me that I no longer need a PC at home. I removed my last one from my entertainment center last night. Its function as a media center PC was replaced by a $35 Chromecast last year. I will still keep a Mac around at the office, but it is not critical either. I will say that I am tired of TN displays. Once manufacturers get rid of all of these old netbook parts lying around and get to real business we will all be better off. The Samsung is a huge winner with an IPS display. I say that because I came back to write this article and others on my Pixel. The Samsung is a fine device and there are none better for traveling, but when I am sitting at home or the office, I want a nice display. Visuals are important.
Chrome OS has successfully defied its detractors. It is a robust OS with capabilities users need in 2014. It is fast, efficient, and most of all, reliable. Users can bounce from machine to machine with ease, your entire portfolio of apps will be available in minutes from the first login. There is not another OS that can boast that feature. I still think the biggest advantage of Chrome OS is a little harder to see at first. When a user buys a Chromebook they are getting a machine that will increase in functionality and speed over time. In any other ecosystem the device slows dramatically over the years.
I am really excited to see where the platform goes over the next year.